Bird Spikes
Bird spikes are also known as anti bird spikes. This device contains long needle-like rods that are used to control birds. They can be attached to building signs, ledges, roof perimeters, window sills, support structures, air-conditioners, poles, awnings, statues, lights, trusses, beams, and building projections.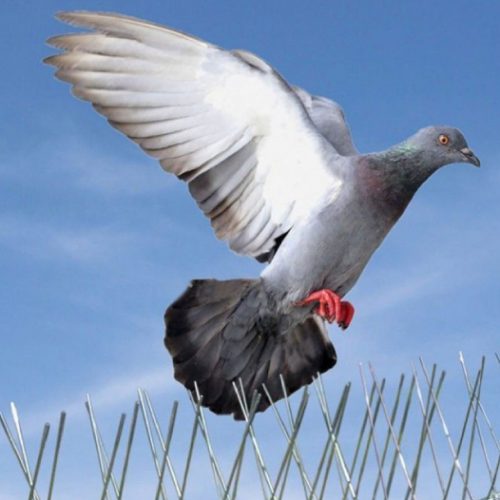 The bird control spikes are used to deter birds without killing or harming them. The bird spikes are made by using tough UV stabilized polycarbonate anti bird spikes. These bird spikes are specially designed to protect the tiny narrow ledges or the leading edges of a wider surface of a space. These bird spikes are almost invisible after installation and used for providing safety from different species of birds.
The bird spikes are the permanent solution for the bird infestation. These bird spikes are maintenance-free, 100% effective on birds. If you are looking to deter any species of birds such as starlings, sparrows, pigeons, etc, then bird spikes are a guaranteed solution to prevent all the species of birds from landing on your property.
We offer a wide variety of anti bird spikes that are made by using high-quality material to suit numerous price points. These bird spikes can be purchased in stainless steel or plastic material. These bird spikes are very easy to install within a minute and provide an excellent and permanent solution to your problem. Contact us for a free consultation. 
Benefits of using Bird Spikes
If you are looking for the best bird repellent device for your space to deter the birds from your space permanently then our plastic or stainless steel bird spikes offer you a variety of benefits. These bird spikes are ideal for ledges, rooftop edges, window sills, and other spaces where birds are roosting or nesting.
 These bird spikes are easy to install, effective in use, and don't cause any harm to any animal or bird. These bird spikes eliminate any damage caused by the presence of birds in your space and any other potential liability. The bird spikes are a one-time solution for the birds if installed properly.
Where to use Bird Spikes
The bird spikes can be easily installed in the following places.
Awnings, Entryways, and Porches
Ledges, Edges, Windowsills
Beams, Girders
Towers, Lights, Aerials, Masts
HVAC Installation
Parapets, Rooftops, Cornices
Success Strategy of using Bird Spikes
The bird spikes are very effective doesn't matter where you want to install them as these physical barriers likewise bird spikes can eliminate the bird's roost, nest, or perch. After installation of the bird spikes, you must check them periodically for best results and also ensure that if there may be any trash or other mess clogs to bird spikes.